A SOLUTION OF PIPING SYSTEM - INTERNATION PROJECT MANAGEMENT AND PROCUREMENT SERVICE.
Reference standards
ASME B16.5 Pipe Flanges and Flanged Fittings: NPS 1/2 through NPS 24
ASME B16.47 Large Diameter Steel Flanges: NPS 26 Through NPS 60
ASME B16.48 Line blanks
ASME B16.36 Orifice Flanges
MSS SP-6 Standard Finishes for Contact Faces of Pipe Flanges and Connecting-End Flanges of Valves and Fittings
ASME B16.20 Metallic Gaskets for Pipe Flanges: Ring-Joint, Spiral-Wound, and Jacketed
ASME B16.21 Nonmetallic Flat Gaskets for Pipe Flanges
ASME B18.2.1 Square and Hex Bolts and Screws, (Inch Series)
ASME B18.2.2 Square And Hex Nuts (inch Series)
ASTM A193 Standard Specification for Alloy-Steel and Stainless Steel Bolting for High Temperature or High Pressure Service and Other Special Purpose Applications
ASTM A194 Standard Specification for Carbon and Alloy Steel Nuts for Bolts for High Pressure or High Temperature Service, or Both



EN 1092 Flanges and their joints — Circular flanges for pipes,valves, fittings and accessories, PN designated —
Part 1: Steel flanges;
Part 2: Cast iron flanges;
Part 3: Copper alloy flanges;
Part 4: Aluminium alloy flanges.

GB/T 9112-2010 Types and parameters for steel pipe flanges
GB/T 9113-2010 Integral steel pipe flanges
GB/T 9114-2010 Hubbed screwed steel pipe flanges
GB/T 9115-2010 Steel pipe welding neck flanges
GB/T 9116-2010 Hubbed slip-on-welding steel pipe flanges
GB/T 9117-2010 Hubbed socket welding steel pipe flanges
GB/T 9118-2010 Loose hubbed steel pipe flanges with welding neck collor
GB/T 9119-2010 Slip-on-welding plate steel pipe flanges
GB/T 9120-2010 Loose plate steel pipe flanges with weld-neck collar and with weld ring neck
GB/T 9121-2010 Loose plate steel pipe flanges with weld-on collar
GB/T 9122-2010 Loose plate steel pipe flanges with lapped pipe end and pressed collar with long neck
GB/T 9123-2010 Steel pipe blank flanges
GB/T 9124-2010 Specification for steel pipe flanges
GB/T 13402-2010 Large diameter steel pipe flanges

HG/20592-2009 Steel pipe flanges(PN designated)
HG/20615-2009 Steel pipe flanges(Class designated)
HG/20623-2009 Large Diameter Steel pipe flanges(Class designated)





Flange types

A weld neck flange derives its name from the neck portion of the flange that is welded to the end of a piping system. It is designed to transfer stress to the pipe, thereby reducing high stress concentrations at the base of the flange. Weld neck flanges are costlier due to their design and engineering, and increased material.
A slip on flange has a low hub and slips onto the pipe prior to welding. Welding is carried out on the inside and outside to provide sufficient strength and prevent leakage. Slip on flanges are all bored slightly larger than the OD of the matching pipe to allow for the welds to hold. They are many times preferred over weld neck flanges due to their lower cost, though net installation cost is often the same due to the additional welding.
A socket weld flange is similar to a slip-on flange, except that it has a bore and a counter bore. These act as a socket, holding the pipe in place before welding, hence the name. The counter bore is slightly larger than the OD of the matching pipe, allowing the pipe to be inserted into the flange, while the diameter of the smaller bore is the same as the ID of the matching pipe. This difference in bore size acts only as a restriction to the depth insertion of the pipe, and therefore eliminates any restriction in flow.
A lap joint flange is practically identical to a slip-on except that it has a radius at the intersection of the bore and flange face. This radius is necessary to have the flange accommodate a lap joint stub end. The stub end is mated with the lap joint flange and used together in piping systems. There are many uses for this type of assembly, from saving costs to creating joint systems. Lap joints do not come with any facing, and are therefore considered flat faced.
A threaded flange is similar to the slip-on except the bore is threaded. The main benefit of this flange is that it can be assembled without welding, facilitating use in low pressure services at ordinary temperatures, and in highly volatile areas where welding is hazardous.
A blind flange is so named due to the lack of a bore: it is a solid flange. It is used to close off the ends of piping systems and pressure vessel openings. As such it can be used in an existing operation flow, or for future expansion requirements. It also permits easy access to the interior of a line or vessel once it has been sealed and must be reopened.
An orifice flange is similar in almost every aspect to their respective flanges, except that they have holes in the side of the flange perpendicular to the bolt holes. These holes act as instrumentation outlets for such things as pressure gauges, flow speedometers, and the like. These holes can be threaded or socket, in a variety of sizes. Another smaller hole is made among the bolt hole pattern to accommodate a jack screw to assist in separating the flanges after installation.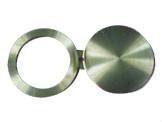 A spectacle blind is a steel plate cut into two discs of a certain thickness.The two discs are attached to each other by section of steel similar to the nose piece of a pair of glasses. One of the discs is a solid plate, and the other is a ring, whose inside diameter is equal to that of a flange.Spectacle Blinds be applied in systems, which regularly need to be separated from other installations.Normally, a Spectacle Blind is mounted in the "open" position so that flow through the pipe is possible. If the Spectacle Blind in the "close" position is rotated, the pipe is blanked off and no flow is possible.
A long neck welding flange is similar to a standard weld neck flange, but the neck is considerably longer. This type is often used as a nozzle for a barrel or column. In addition, there are the type LWN Heavy Barrel (HB) and the Equal LWN Barrel (E); they have a different shape and a thicker wall.